About QuickBooks Accountant Edition
QuickBooks Accountant Edition was developed with accountants in mind. It incorporates all editions of QuickBooks in order to facilitate an accountant's need to interact with clients who may be using any edition of QuickBooks. If you are not an accountant, I do not recommend you purchase the accountant edition; it does not exhaust every option of individual edition as each edition do.
Also, some features, such as payroll calculations tend to be left out and not calculated accurately. I suggest you use the pro or premier editions if you are a small to medium business. They have been around for a while, and are possibly better because they were the first set Intuit developed. They include everything you need to effectively run the financial aspect of your business: track inventory, invoice clients, pay vendors, manage payroll, reconcile accounts, and generate reports. The cost to operate QuickBooks Accountant is just under $300 as of 2013.
QuickBooks Accountant Edition Features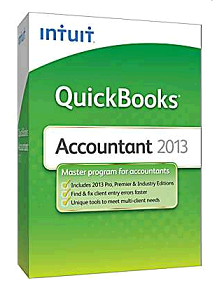 QuickBooks Accountant Edition allows you to:
1) Quickly Setup New Clients using Templates
2) Edit two (2) company files at once
3) Reclassify transactions in batch
4) Email Journal Entries to Clients
5) Write off multiple invoices instead of one at a time
6) Easily Navigate between Clients
7) Integrate third-party applications
8) Option of Importing only non-sensitive Clients information
9) Paste and save over 1000 transactions from Excel into QuickBooks, at once, using a screen designed for power data entry
10) Create and customize advanced financial statements
11) Enhanced Accountant's User-friendly Menu Interface
See Snapshots of the Accountant Edition showing the extra menu and reporting options that are added to this edition.
Learn more about QuickBooks Accountant Edition from its developer -Intuit