About QuickBooks Pro
QuickBooks Pro includes everything you need to track inventory, invoice clients, pay vendors, manage payroll, reconcile accounts, and generate reports. It is designed for small businesses with few employees, with up to three (3) users accessing it.
The cost to operate QuickBooks Pro is just under $250 as of 2013, and for a few more features you can purchase the QuickBooks Pro Plus instead, which cost just under $300. The additional features in the Pro Plus version are: unlimited phone support; mobile access; ongoing upgrades, at no extra cost; and automatic online backup.
QuickBooks Pro Features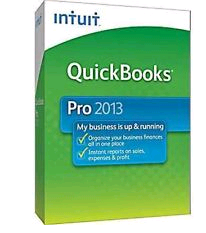 1) Allow multiple users (up to 3) to access
and work in QuickBooks at the same time. (You will need to purchase multi-user license to use this feature)
2) Conveniently email Invoices and Estimates to your Customers from your business email account through QuickBooks
3) Track sales, sales taxes, and Customer payments
4) See all your key Customer information at a glance with the Customer Snapshot
5) Download your bank transactions into QuickBooks
6) Stay on top of your receivables with the Collections Center
7) Import data from Excel, Quicken, Microsoft Office Accounting, and prior QuickBooks versions
8) Save your worksheet formatting when you export QuickBooks reports to Excel
9) Attach and store documents in the Document Center
The Pros and Cons of QuickBooks Pro
The Pros:
1) QuickBooks Pro streamlines all small business tasks: from managing inventory to paying vendors; from invoicing customers to making direct deposits; from processing payroll to generating payroll taxes; from reconciling bank and credit card accounts to generating multiple reports.
2) QuickBooks Pro integrates with a variety of third-party products and includes numerous features to make life easier for business owners.
3) QuickBooks Pro has the capability to generate over 100 pre-configured reports in addition to custom, memorized, favorites, recent and contributed reports.
4) QuickBooks Pro can be accessed remotely allowing for more flexibility and options.
5) You can easily export data to popular productivity software such as Excel and QuickBooks Point Of Sale.
The Cons:
1) QuickBooks Pro does not manage more than one price level per inventory item. To compensate for this, you will have to create another item file or upgrade to QuickBooks Premier.
2) QuickBooks Pro cannot manage as much inventory or as many inventory data fields as QuickBooks Premier or Enterprise versions. It is intended for small business owners and manages up to 14,500 items (inventory, customers or vendors) and three (3) concurrent users, which is sufficient for most small businesses. The Premier version supports 14,500 plus items and up to five (5) simultaneous users.
3) QuickBooks Pro only allows up to three (3) simultaneous users. (Even though you have to purchase licenses for multiple users, QuickBooks Pro is built to accommodate a maximum of three.)
Setting Up and Managing Your QuickBooks Pro