QuickBooks Company Setup: Pro, Premier
How to setup a new company in QuickBooks Windows Edition (Pro, Premier)
QuickBooks makes setting up a company very seamless with their easy to follow "EasyStep Interview". There are several editions and versions of QuickBooks software, and although the basic layout of the setup windows vary by design, the questions in the interview are the same or similar. All QuickBooks Editions use the same layout and design for a period of versions, but the same interface for all versions thus far. For example, QuickBooks Pro, Premier, and Enterprise Editions had the same layout, design, and interface for 2008 to 2011, and then a new layout and design for 2012 to Present with the same interface. The difference between each edition may be the addition of a menu or two with linked options specific to an industry type or use. I will be using QuickBooks 2008 to Present for this tutorial and will be adding the changes QuickBooks make to these versions - subsequently.
So, locate your company information, such as your bank statement, last tax return, sales tax info. and have them ready to be input. Below is a snapshot of the first screen you will see when you open QuickBooks (Windows versions) for the first time. Select the 'Create a new company' button (as indicated by the red arrow below), and you will be taken to a new window where you will begin your company setup interview.
You can skip the entire interview and start using QuickBooks, and input the information at a later date. However, I highly recommend the interview process before using QuickBooks, in order to not be inconvenienced later with having to input missing information that is needed to complete a task.
Click the Create a new company button to start the Interview process for setting up your company in QuickBooks.
Click the 'NEXT' button below the screenshot below to enter the first interview window.
QuickBooks 2012 to Present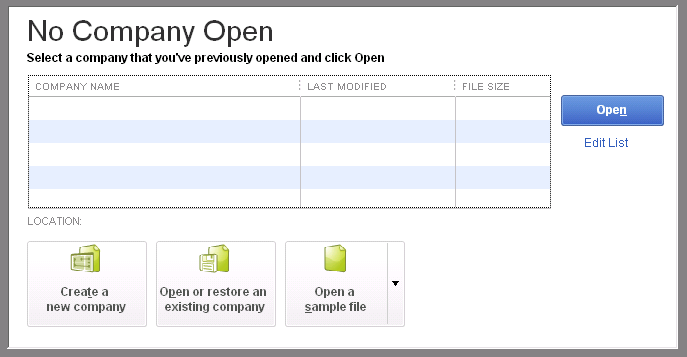 QuickBooks 2008 to 2011