QuickBooks for Mac Tutorial
About QuickBooks for Mac
QuickBooks for Mac is no doubt lagging behind the Windows versions of QuickBooks and definitely has some improvement to do. However, it can be used for the basic bookkeeping functions of your company, and if using that aesthetic interface that the Mac computers provide is a priority for you, then this QuickBooks Tutorial will help you make the most of your QuickBooks for Mac.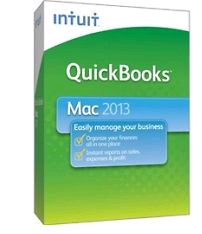 The cost to operate QuickBooks for Mac is under $250 as of 2013. However, in order to use certain features such as payroll, you will need to purchase QuickBooks Payroll for Mac which is "in the cloud".
Because QuickBooks Payroll for Mac is in the cloud, and not hosted on your hard drive, you will not have the functionality or versatility to generate your payroll taxes through Quickbooks. If this is a priority for you, then you are recommended to use a QuickBooks for Windows version. You will also have to ensure that your employees information, such as their names, are spelled the same in both your QuickBooks for Mac and QuickBooks Payroll.
The Pros and Cons of QuickBooks for Mac
The Pros:
1) The Mac computers allow you to use Windows or Mac platform, so you can back up your QuickBooks for Mac data in Windows format and get it opened on a Windows only computer. (For example, if your accountant is using Windows and you are using Mac, you can back it up on your Mac in Windows format, send it to him/her, and import it when it is updated and returned to you).
2) QuickBooks for Mac has a single screen where all the transactions are organized by transaction type, etc. called the Transaction Center. It is the only version with this feature and I find it very convenient to use.
The Cons:
1) The annual updates are expensive and they rarely add crucial features.
2) Unlike QuickBooks for Windows, QuickBooks for Mac has no way to merge an accountant's changes into an existing file.
3) Unlike Windows-based QuickBooks (Pro, Premier, Enterprise), QuickBooks for Mac (as of 2013) still does not allow for remote access.
4) QuickBooks for Mac does not allow for Integrated Payroll - you will need to purchase QuickBooks Payroll for Mac - separately, which is "in the cloud". Because it is not stored on your computer, you will need to export your payroll data to your computer each time you prepare payroll. You will also need to ensure that simple things, such as your employees names are spelled the same way in QuickBooks for Mac as well as QuickBooks Payroll for Mac on Intuit's server during setup, in order to get your Payroll service to work accurately.
5) Multiple currency use cannot be implemented in QuickBooks for Mac.
6) QuickBooks for Mac does not allow for Multiple Units of Measure.
Setting Up and Managing Your QuickBooks for Mac
Customer, Invoicing & Receivables Management QuickBooks for Mac
New Employee Setup and Payroll Management QuickBooks for Mac